About Us
Joe's Pizza Bar is conveniently located at 415 Henley Beach Road, Brooklyn Park, SA. We serve delectable pizza dishes that are big on flavour, yet light on the budget. Our traditional pizza creations include Roman, Bacon, The Lot, Margherita, Soprano, Meat Lover and more. We also serve gourmet pizza dishes such as Marinara, Fresca, Prawn Star, Calabrese, Chicken Royale, Prosciutto and many more. Our must-try pasta dishes include Lasagna, Napolitana, Al Burro, Carbonara, Bolognese, Puttanesca and more. We provide deliveries and pickup services for your convenience. We also accept online orders. Just place your orders through our new online ordering system.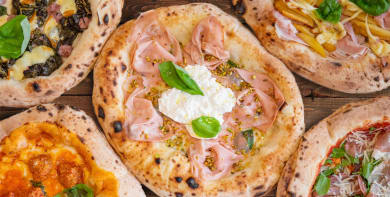 Reviews
Aaron
"I paid for extra toppings and got exactly that, heaps of extra toppings! The ingredients are fresh, base was nice and crispy. Will definitely recommend, and order again."
9/04/2021
William
"Great Delivery Service!!..."
26/03/2021
Kuldeepak
"Amazing food, I ordered one pizza and one chicken schnitzel and both the things were just amazing 👍👍"
14/03/2021
Contact Us
Find Us
415 Henley Beach Road, Brooklyn Park, 5032
Opening Hours
Tuesday
4:30 PM - 2:00 AM
Wednesday
4:30 PM - 2:00 AM
Thursday
4:30 PM - 2:00 AM
Saturday
4:30 PM - 2:00 AM
Please note, delivery times may vary.
We deliver to
5007 Welland, 5007 West Hindmarsh, 5008 Croydon, 5008 Croydon Park, 5008 Ridleyton, 5008 West Croydon, 5009 Allenby Gardens, 5009 Beverley, 5009 Kilkenny, 5011 Woodville, 5011 Woodville Park, 5011 Woodville West, 5012 Woodville North, 5014 Albert Park, 5014 Hendon, 5021 West Lakes, 5022 Grange, 5022 Henley Beach, 5022 Henley Beach South, 5022 Tennyson, 5023 Findon, 5023 Seaton, 5024 Fulham, 5024 Fulham Gardens, 5024 West Beach, 5025 Flinders Park, 5025 Kidman Park, 5031 Mile End, 5031 Mile End South, 5031 Thebarton, 5031 Torrensville, 5032 Brooklyn Park, 5032 Lockleys, 5032 Underdale, 5033 Cowandilla, 5033 Hilton, 5033 Marleston, 5033 Richmond, 5033 West Richmond, 5035 Ashford, 5035 Everard Park, 5035 Forestville, 5035 Keswick, 5035 Keswick Terminal, 5037 Glandore, 5037 Kurralta Park, 5037 Netley, 5037 North Plympton, 5038 Camden Park, 5038 Plympton, 5038 Plympton Park, 5038 South Plympton, 5040 Novar Gardens, 5045 Glenelg, 5045 Glenelg East, 5045 Glenelg North, 5045 Glenelg South, 5950 Adelaide Airport